Japanese Onsen Manners and Tips
---
In Japan, there are a lot of public baths even in a busy city like Tokyo. A public bath is called "銭湯 Sentou" whereas a hot spring bath is called "温泉 Onsen". You can enjoy an onsen bath in a "旅館 Ryokan" (a Japanese guest house) or hot spring districts. When going to an onsen or a sentou, there are rules that need to be followed. Here are ten Japanese onsen manners and tips.
#1. Take your shoes off.
At the entrance, you can see a hanging cloth "暖簾 Noren". Flap it away and get inside. At first, you have to take your shoes off, and put them in the shoe boxes which is called "下駄箱 Getabako". Most of the getabako has keys so lock it and go to the counter which is called "番台 Bandai" to pay the cost. Some lockers accept coins and you might need 100 yen coin, insert it and it will be returned to you when you unlock the key. The cost for sentou in Tokyo is 460 yen (as of 2018). At the entrance of an onsen bath in ryokan, just take your slippers off, leave them, and go inside.
#2. Take off your clothes fully.
No bathers unless there is a sign that indicates so. You will see the locker room which is called "脱衣所 Datsuijo". Some datsuijo have baskets instead of lockers. Usually, shampoos and body soaps are placed in the washing room so you just need to take your hand towel with you.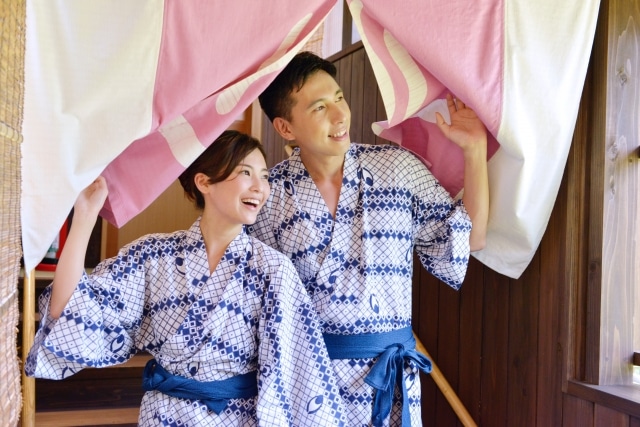 #3. Wash your body first before going into the bathtub.
The washing space is called "洗い場 Araiba". There are showers and taps and you have to grab a washbowl "洗面器 Senmenki" and a small chair at the corner of the araiba. Before jumping into the bathtub, you have to lightly wash your lower body. After that, you can get into the bathtub and soak your body for a while. Then, get out of the bathtub and scrub your body carefully.
#4. Watch others when washing.
When taking a shower, pay attention to the people around you to avoid splashing water on them. Also, do not let the rinse water go the person next to you.
#5. Do not put your towel into the bathtub.
You can take your towel to araiba but do not put it into the bathtub. The bathtub is called "湯船 Yubune". People usually put the towel on their head or the edge of yubune. The hot water in the bathtub is supposed to be clean all the time.
#6. Do not put cold water into yubune.
The temperature of yubune is usually around 40℃. Most people prefer a hot bath but if the water is really too hot for you and you want to get some cold water, ask the people in the bathtub "少しだけ水を入れてもいいですか Sukoshidake mizu wo irete mo iidesu ka."
#7. No washing inside the bathtub.
Do not wash your body inside yubune because the water has to be clean. You should use an araiba when washing your body.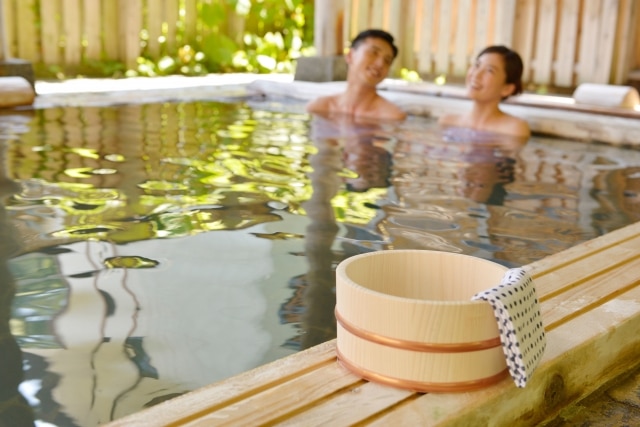 #8. No running and no swimming.
The floor inside the bathroom is very slippery, so walk carefully, do not run. You cannot swim in the bathtub either even though it is big enough to swim there.
#9. Do not forget Roten-buro, Sauna and Mizu-buro.
An outdoor bathtub is called "露天風呂 Roten-buro". In the night time, it has a great atmosphere, but the place is dark, lots of rocks are used and the surface might be slippery so be careful when you move. Sauna is usually free and you can sit somewhere on the bench/steps. The upper level has higher temperature so let's start from the lower level. Wrapping your head with wet towel helps prevent you from getting dizzy. Staying for 10 minutes is enough. After that, you can jump into a cold water bathtub called "水風呂 Mizu-buro". Before that, you should rinse your body to remove sweat from the sauna.
#10. Wipe your body before going back to the locker room.
Before going back to the locker room or datsuijo, wipe your body with a hand towel. After that, go to your locker and wipe your body completely with your bath towel. Keep datsuijo dry and clean.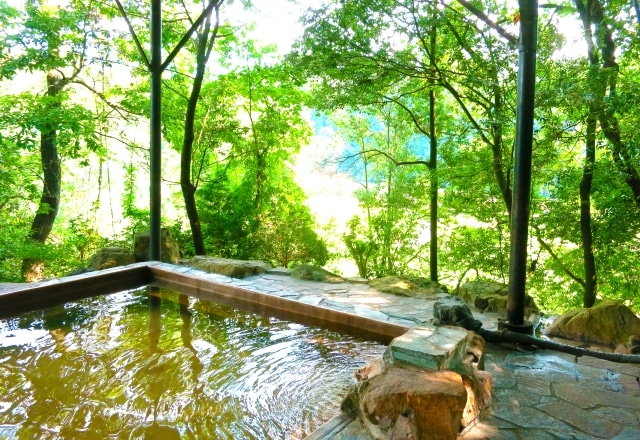 Tips for Visitors with Tattoos
People with tattoos are often declined from using an onsen. There are three solutions to this:
Use a tattoo cover sticker. Some places allow people with tattoos to have a bath if they cover their them. You can purchase the sticker in advance.
Choose a ryokan with a private onsen bathtub which is called "貸切風呂 Kashikiri-buro". This is a separated bath from the main onsen baths. It usually requires a booking and the guests who might be a couple, family or friends can enjoy their private bathtub for 1 hour or so.
Book the ryokan which has the room with open-air bath "露天風呂付き客室 Roten-buro tsuki kyakushitsu". You can enjoy private roten-buro as much as you want during your stay.
---
Want to learn some Japanese before your next trip to Japan? Learn Japanese online with our private or small group Japanese lessons.