How To Make Use of Japanese Songs To Learn Japanese
Music and songs can be used as a method for incidental vocabulary learning. With well-developed Japanese music industry, it is going to be easy to learn Japanese through Japanese songs. Study shows that music can enhance memorisation process. In particular, the retentive effect of music can be maximised when the verbal information carries meaning. Best of all, the use of music does not compete with vocabulary learning, rather it complements and enhances the learning process. In general, music is processed by the right hemisphere of the brain (which processes creative tasks) and language acquisition is processed by the left hemisphere of the brain (which processes analytical tasks). The use of both hemispheres of the brain somehow leads to better memory retention.
It is even more beneficial to use music videos to learn a language as it contains not only music, but also visual cues that add support to give meaning to new vocabularies. Not only that, music videos may also contain subtitles in the target language that further highlight the new vocabularies. In our previous post, we have written about the benefits of subtitling in foreign language movies for learning new vocabularies. The same can be extended to music videos. One particular advantage of using music videos or songs to learn new vocabularies is the small amount of time required to listen to a song. Plus, the songs can be replayed many times a day or daily without much inconvenience. The repetition acts to reinforce the new vocabularies learnt. Language learner can also be involved by singing along, which further reinforces the memorisation process.
Study shows that language learners acquire more new vocabularies when listening to a story presented with music and picture than without. This method is especially effective for language learners with smaller vocabulary bank. In contrast, this method is not as effective for advanced language learners who has a large vocabulary bank. The use of music and pictures to learn new vocabularies can be further maximised with follow-up activities, such as by elaborating on the new words.
Culturally, it is also beneficial to learn Japanese songs as karaoke is a popular social activity in Japan. Moreover, cultural values are also imparted through lyrics and language learners get to learn how thoughts and feelings are expressed in the target language. Listening to music is often associated with relaxation and fun. Thus, incorporating music into language learning would help learners to associate language study with relaxation and fun, as opposed to demanding, serious activity. Moreover, we learn better when we are in a relaxed state.
Types of songs also matter. For beginner learners, song lyrics should be relatively simple and pace should be relatively slow. For this reason, slow pop songs are ideal. The beat in pop music has also been noted to help language learners create a sense of inner timing and speak in whole sentences instead of saying words one at a time.
Study also shows that learners who are exposed to most music obtain higher scores. However, the study does not identify the optimal amount of music most effective for language learning. Learners who incorporate target language songs into their language learning routine also report more enjoyment and confidence towards their language learning.
Here's our list of all-time favourite Japanese songs to help you learn Japanese.
---
クリスマス・イブ by 山下達郎
雨は夜更け過ぎに 雪へと変わるだろう
Silent night, Holy night
きっと君は来ない ひとりきりのクリスマス・イブ
Silent night, Holy night
心深く 秘めた想い 叶えられそうもない
必ず今夜なら 言えそうな気がした
Silent night, Holy night
まだ消え残る 君への想い 夜へと降り続く
街角には クリスマス・トゥリー 銀色のきらめき
Silent night, Holy night
---
Say Yes by Chage and Aska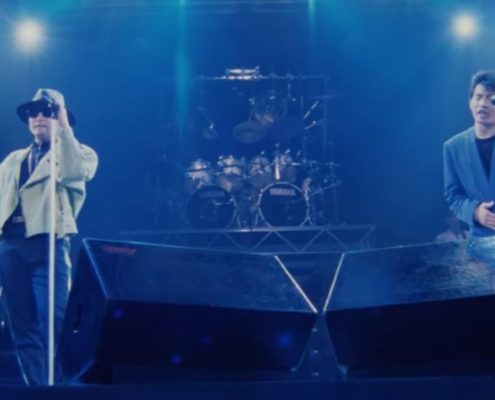 余計な物など無いよね
すべてが君と僕との愛の構えさ
少しくらいの嘘やワガママも
まるで僕をためすような恋人のフレイズになる
このままふたりで 夢をそろえて
何げなく暮らさないか
愛には愛で感じ合おうよ
硝子ケースに並ばないように
何度も言うよ 残さず言うよ
君があふれてる
言葉は心を越えない
とても伝えたがるけど 心に勝てない
君に逢いたくて 逢えなくて寂しい夜
星の屋根に守られて 恋人の切なさ知った
このままふたりで 朝を迎えて
いつまでも暮らさないか
愛には愛で感じ合おうよ
恋の手触り消えないように
何度も言うよ 君は確かに
僕を愛してる
迷わずに SAY YES 迷わずに
---
True True by Cagnet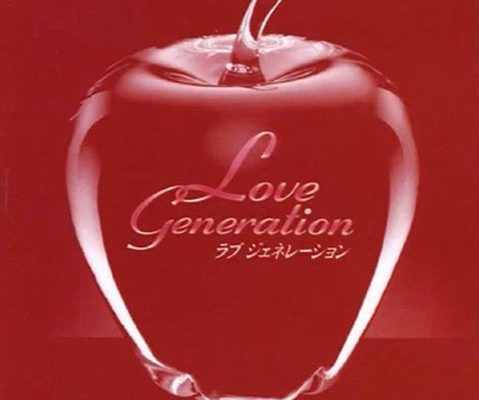 トゥルー・トゥルー そっとね
トゥルーって聞こえる
トゥルー・トゥルー 痛いって
そぉーっと聞こえる
悲しいって時は
誰に話すの
うれしい時は
話せるのに
盗んであげるよ
迷ってるキミを
ころんだ服についてる
過去をはらって
トゥルー・トゥルー もう
気づいただろう
行けない場所なんか
どこにもないさ
胸をトゥルー・トゥルー 揺らす
トゥルー ささやきは
とおいボクの
シグナルだから
ほんとうはずぅっと
わかってた事も
知らん顔をして
いたのかもね
いけない事も
わかんない事も
キミが目をそらして
いただけかもね
トゥルー・トゥルー もう
思い出して
かならず歩いた
あの日の事を
いつかトゥルー・トゥルー 笑って
話せるように
---
True Love by 藤井フミヤ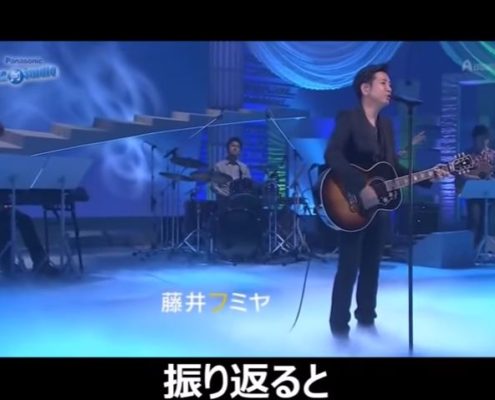 振り返ると いつも君が笑ってくれた
風のようにそっと
まぶしすぎて 目を閉じても浮かんでくるよ
涙に変ってく
君だけを信じて 君だけを傷つけて
僕らは いつも はるかはるか遠い未来を
夢見てたはずさ
立ち止まると なぜか君はうつむいたまま
雨のようにそっと
変わらないよ あの日君と出会った日から
涙に変っても
君だけをみつめて 君だけしかいなくて
僕らはいつもはるかはるか遠い未来を
夢見てたはずさ
---
幸せな結末 by 大滝詠一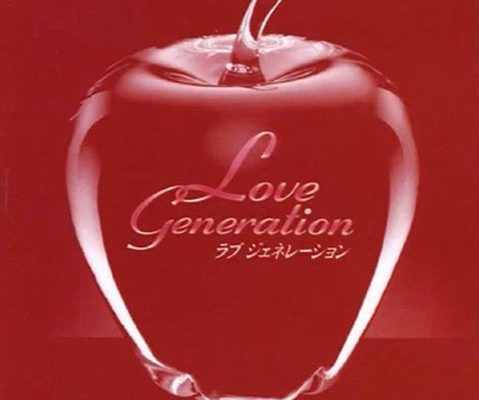 髪をほどいた 君の仕草が
泣いているようで 胸で騒ぐよ
振り返るのは 終わりにしよう
他の誰でもなく 今夜君は僕のもの
さみしい気持ち 隠して微笑う
強がる君から 目が離せない
昨日じゃなくて 明日じゃなくて
帰したくないから 今夜君は僕のもの
踊り出す街に 二人の今を
探し続けて はしゃいだあの日
さよなら言うよ 虚ろな恋に
いつまでも離さない 今夜君は僕のもの
走り出す街で 二人の明日
夢に描いて 見つけた夜明け
あふれる思い 押えきれない
幸せな結末 きっと見つける
今なら言える 素直になれる
いつまでも 愛してる
今夜君は僕のもの
---
First Love by 宇多田ヒカル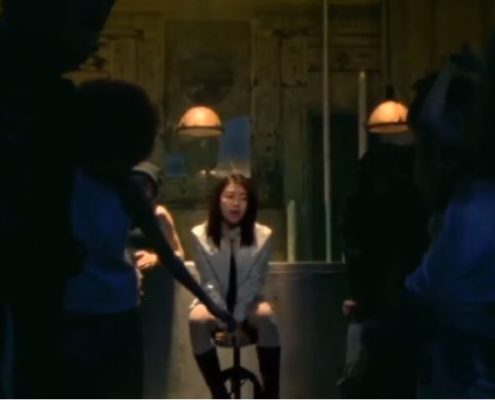 最後のキスはタバコの flavor がした
ニガくてせつない香り
明日の今頃には あなたはどこにいるんだろう
誰を思ってるんだろう
You are always gonna be my love
いつか誰かとまた恋に落ちても
I'll remember to love
You taught me how
You are always gonna be the one
今はまだ悲しい love song
新しい歌 歌えるまで
立ち止まる時間が動き出そうとしてる
忘れたくないことばかり wou
明日の今頃には わたしはきっと泣いてる
あなたを思ってるんだろう yeah yeah yeah
You will always be inside my heart
いつもあなただけの場所があるから
I hope that I have a place in your heart too
Now and forever you are still the one
今はまだ悲しい love song
新しい歌 うたえるまで
---
真夏の果実 by Southern All Stars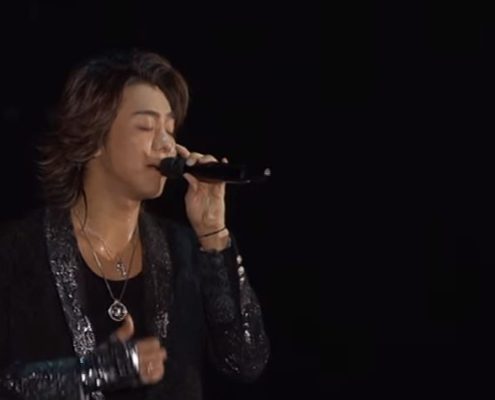 涙があふれる悲しい季節は
誰かに抱かれた夢を見る
泣きたい気持ちは言葉に出来ない
今夜も冷たい雨が降る
こらえきれなくてため息ばかり
今もこの胸に夏は巡る
四六時中も好きと言って
夢の中へ連れて行って
忘れられない Heart & Soul
声にならない[夜が待てない]
砂に書いた名前消して
波はどこへ帰るのか
通り過ぎ行く Love & Roll
愛をそのままに
マイナス100度の太陽みたいに
身体を湿らす恋をして
めまいがしそうな真夏の果実は
今でも心に咲いている
遠く離れても黄昏時[たそがれとき]は
熱い面影が胸に迫る
こんな夜は涙見せずに
また逢えると言って欲しい
忘れられない Heart & Soul
涙の果実よ
---
La La La Love Song by 久保田利伸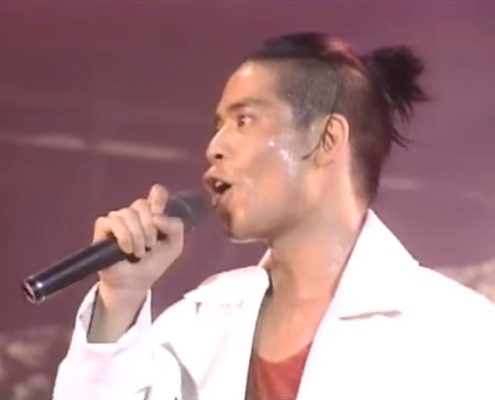 まわれ まわれ メリーゴーラウンド
もうけして止まらないように
動き出したメロディ
LA・LA・LA・LA・LA LOVE SONG
Wanna Make Love
Wanna Make Love Song, Hey Baby…
ドシャ降りの午後を待って 街にとび出そう
心に降る雨に 傘をくれた君と
「まっぴら!」と横向いて 本音はウラハラ
でも そのままでいい お互いさまだから
めぐり会えた奇跡が
You Make Me Feel Brand New
涙の色を変えた
And I Wanna Love That's Brand New
息がとまるくらいの
甘いくちづけをしようよ
ひと言もいらないさ とびきりの今を
勇気をくれた君に
照れてる場合じゃないから
言葉よりも本気な
LA・LA…LOVE SONG
Wanna Make Love
Wanna Make Love Song, Hey Baby…
知らぬ間に落としてた 小さなかけらを
隙間なく抱きよせ 肌でたしかめあう
宇宙の見えない夜
You Are My Shinin' Star
かまわない 君が見える
And I Wanna Be Your Shinin'Star
まわれ まわれ メリーゴーラウンド
もうけして止まらないように
動き出したメロディ LA・LA…LOVE SONG
とめどなく楽しくて やるせないほど切なくて
そんな朝に生まれる 僕なりのLOVE SONG
ためいきの前に ここにおいでよ
---
In summary, we should use songs to learn Japanese for the following reasons:
Result in better memorisation
Can lead to long term retention
Learn more new vocabularies
Assist with pronunciation and grammar
Minimum investment of time
Learn cultural values of the target language
Easily learn ready-made expressions that can be practical for everyday speech
Relaxing and fun
Learn to speak in whole sentences
Increase learner's motivation, enjoyment, and confidence

---
See also How To Travel By Train in Japan.
Click the button below to learn more about our online Japanese classes for adults (general, business, travel, or JLPT preparation).