Useful Apps for Kids Learning Japanese
In addition to attending their regular Japanese classes, children can complement their study by using apps. The first step for kids learning Japanese is to master hiragana and katakana, and later kanji. Although repeated handwriting of hiragana and katakana letters can still be used, using apps to support children learning is so much more fun. The experience of using apps is enhanced with lively animation and background music, transforming what used to be a bland activity into an engaging learning experience instead. Below we round up six educational apps that are useful for school children who are beginner learners of Japanese.
Trace and Learn Hiragana and Katakana
This FREE app is so simple yet so delightful. As the name of the app suggests, it enables users to learn hiragana and katakana by tracing the letter. There is an audio file for each of the letter. When users trace the letter correctly, a burst of stars will appear. As users progress, they will unlock new cute cursors to trace the letters in the form of a butterfly, a rocket, and so on, as a form of incentive. It is perfect for very beginner learners who are just starting to learn hiragana and katakana writing.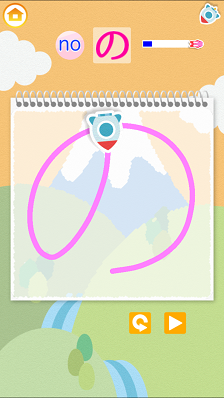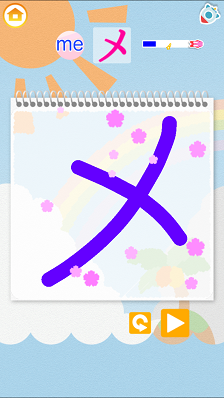 Dr. Moku's Hiragana Mnemonics LITE
This FREE app provides users with mnemonic hints on remembering each hiragana letter. It also has a complete hiragana chart with dakuten and yoon. Another function is quiz & practice on reading, listening, and writing. For the reading quiz, a letter is presented and the user has to choose which romaji correctly represents the letter. For the listening quiz, a sound is presented and the user has to choose the correct hiragana letter. For the writing quiz, you can input a letter and the app will tell you if have got it right. If you choose to upgrade to paid app, you will be able to write with your finger and play word search games. And of course, there is Dr. Moku's Katakana Mnemonics LITE, another FREE app to complete your study of katakana.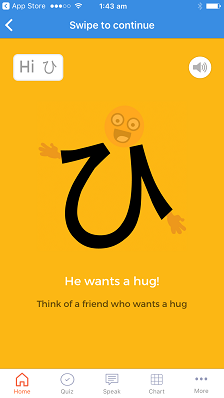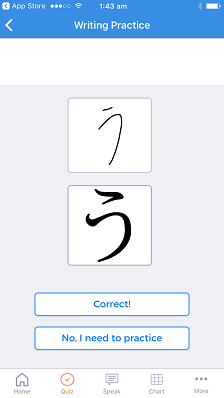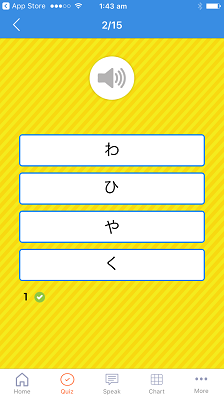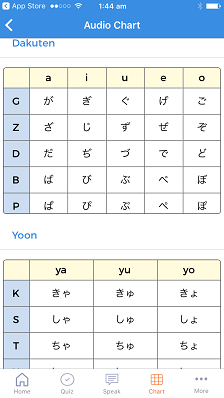 Writing Order FREE Hiragana/Katakana by Mazahiro Mizutani
This is a FREE app that makes learning hiragana and katakana a game. The game mode allows users to choose to play in a practice mode or a game mode. In the practice mode, users simply trace the hiragana/katakana with their fingers. Stroke order and audio file are shown. Just follow the robo cursor to practice writing the letters. In the game mode, users compete with the robo cursor to quickly complete writing the hiragana/katakana. The only con with this app is you have to view a 5 second game ad before using the app each time.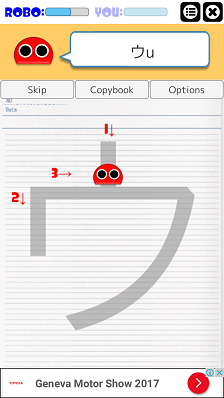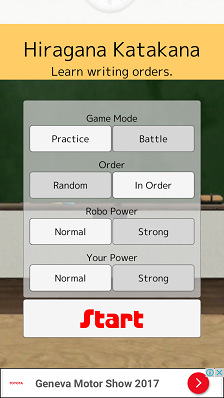 ALS' engaging video lessons is a comprehensive step-by-step Japanese course for children that comes complete with quizzes and homework. Personally taught by experienced Japanese teacher, students can listen to meaningful authentic inputs in various contexts. And not only learning grammar and Japanese script, students will also be introduced to rich Japanese cultures by sensei. This is a self-paced program that suit those who want to study Japanese online.
Learn Japanese by Mindsnacks
The first lesson is FREE. This app is useful for students who have just learned hiragana, katakana, and even kanji, and want to practice to recall what they have learnt. There are three game modes. In the FREE mode, users get to play with either Swell the fish, Chipper the squirrel, or Belly the frog. The animation is very lively and the music engaging. With Swell, users get to recall all three writing systems: romaji, kana, as well as kanji. Users need to select the right answer before the water level goes down below the fish. With Chipper, users need to rearrange the hiragana as per the romaji shown. With Belly, users listen to the audio file and choose the right word to fill Belly's tummy. Belly will fetch the word with his tongue and it will go to his belly. The Belly game is a very cool listening practice that other apps usually lack. This app enables students to test their Japanese reading skills and listening skills. Each time users complete a quest, they will move up to the next level for more quests and lessons. The first free lesson only covers the numbers. There are also hiragana and katakana charts. To purchase all 50 lessons, the app charges $7.99.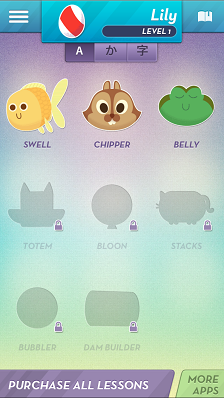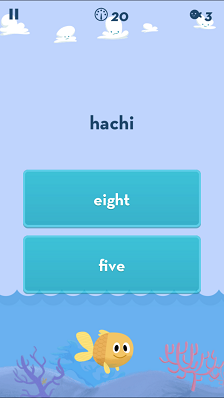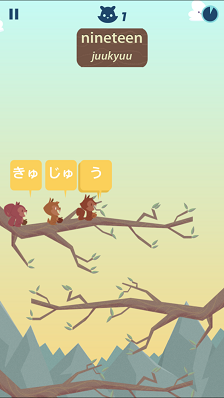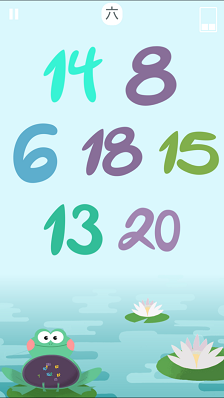 Professor Ninja Japanese for Kids
This app teaches users carefully selected vocabularies across 10 categories (Nature, My Home 1 & 2, Healthy Living, Time and Numbers, Shapes and Emotions, Family and Pastimes, My Body, Planet Earth, and My City. Each category contains 100 vocabularies. The topic on Nature is FREE. The unique thing about this app is that instead of tapping on a button to action something, you have to 'slash it' or swipe your finger diagonally to mimic a ninja using his sword. All words are presented in either hiragana or katakana, no romaji or English meaning is included. You have to read the Japanese writing, listen to the audio, and use the picture to understand the meaning of the word, using an immersive Japanese learning method. Another unique function of this app is that it enables you to record your pronunciation and replay your recording to compare it with the native speaker audio. The app also contains an interesting test mode that quizzes your memory of the category learned. You will be tested in various modes, such as having to choose the correct Japanese word when a picture is presented, or sometimes an audio multiple choice is used instead. Each question is clocked, making the game more exciting. There are 100 questions for each category but they are so interactive and diverse that the test is not mundane like some other flash card games. And for only $1.49, you get to unlock all the categories to learn 1000 vocabularies across ten categories. As there is no romaji or English used at all, this app would suit students who have mastered their hiragana and katakana. This app is designed for kids age 9 or older.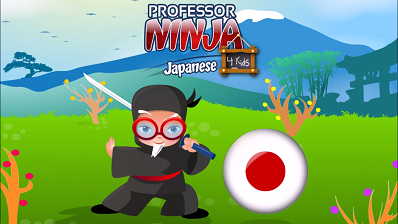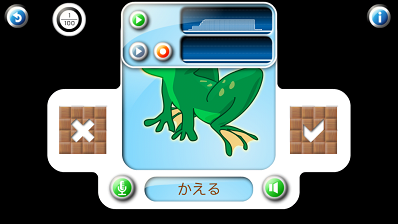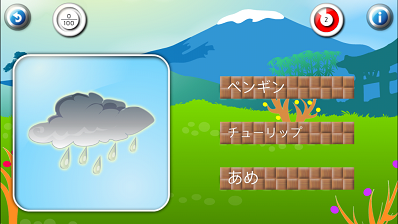 Dr Kids DIY Flash Cards Lite – Japanese
This app is useful for students wanting to learn Japanese vocabularies. The Lite version is FREE and gives users access to four categories of vocabularies (animals, food & drinks, adjectives, actions). Users use flash cards containing cute cartoons to revise new vocabularies, complete with native speaker audio and the vocabularies written in hiragana, katakana, or kanji. The most interesting function of this app is that it enables you to create your own flash cards by taking a photo or choose from your photo album, write down the word (either in English for romaji or in Japanese if you have the Japanese language installed on your phone), and record your own voice. However, the flash cards are limited to 20 cards. For $1 fee, users get access to six more categories with a total of 300 vocabularies to learn in total and DIY flashcards.