11 Best Places to See
in South Korea for First-Time Visitors
---
November 20, 2022
Korea is one of the most beautiful and historic countries in the world, and if you're visiting Korea for the first time, there are some places that you should absolutely make sure to visit. From shopping in Seoul's Myeongdong district to hiking on Jeju Island. Or marvel at the many historical sites to learn about the Korean history. There is something for everyone. Here are some of the best places to see in South Korea for first-time visitors.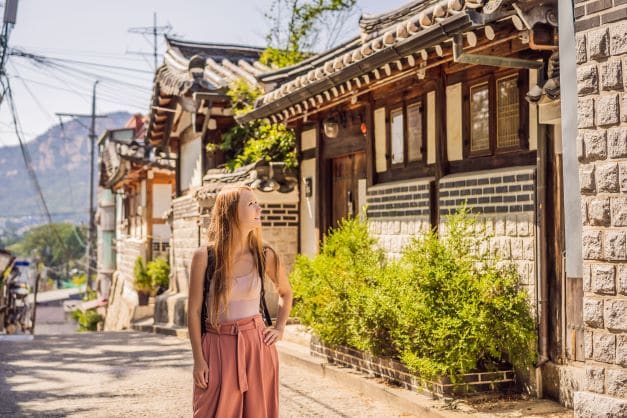 #1. Yeouido
Yeouido is a great place to visit because of its beautiful landscape and great museums. There are many things you can do at Yeouido, such as shopping around in one of the many stores or restaurants. You could also take a walk around the lake or check out some of the more modern buildings in Yeouido, like those found in Sincheon-dong. You don't even have to leave your hotel! If you're staying near Yeouido Station, there's no shortage of cafes and restaurants that offer free WiFi for guests who need a break from exploring Seoul on foot (or even if you just want some nice scenery).
#2. Insadong
One of the best places to visit in South Korea is Insadong. It's a popular shopping district located in Seoul, the capital city of South Korea. The word "Insadong" means "inward mountain pass" in Korean, so it's fitting for this neighborhood as it lies along mountains and hills that surround downtown Seoul.
You'll find many traditional Korean culture relics on display here like restaurants serving authentic food and street vendors selling traditional wares like chopsticks or incense burners made from brass or porcelain. But if you're looking for something more modern, there are plenty of art galleries and antique shops where you can buy some souvenirs before heading over to another place nearby called Gyeonghuigung Palace (Palace Ho). This palace was once used as an official residence for kings during their stay at Deoksugung Palace (Palace East) during spring time because its location near Han River, which provided cooler temperatures than other areas around town do during spring time periods.
#3. Bukchon Village
Bukchon is a traditional neighborhood in Seoul, South Korea. It's located within the Jongno district and is also known as the "Hanok Village." The area has been inhabited since the Joseon Dynasty (1392–1910) and consists of over 1,600 hanok buildings.
The Korean War caused many residents to move out of Bukchon, but after peace was restored in 1953, people began moving back into their old homes—only now with greater care for their surroundings. As such, Bukchon is one of the best places to see how Koreans lived before modernization took over during the 20th century.
There are several ways you can explore this historic district: You can walk around on your own or join a guided tour on foot or by bicycle; you can also ride through it via trolley bus or cable car! You'll find yourself surrounded by high stone walls lined with pine trees; some hanoks have colorful patterns painted onto their doors or windows; others have an arched entryway that leads into courtyards with fountains and gardens; there are even some buildings decorated with elaborate murals depicting scenes from Korean myths!
When visiting Bukchon Village during your trip to Seoul make sure not just check out these sites but also stop by at least one hanok restaurant so you can sample some traditional cuisine while enjoying views of nearby mountains and valleys.
#4. Nami Island
Nami Island is a popular tourist destination and one of the most accessible places to visit in South Korea. The island can be accessed by a combination of bus and ferry, making it accessible for travellers on a budget. It's also located right in the middle of Seoul, so if you're looking for somewhere to retreat from the hustle and bustle of big city life, Nami Island could be just what you need!
Nami Island is great for all kinds of outdoor activities; hiking, cycling and rollerblading are popular pastimes here as well as dining out on some delicious local food. There are also several museums that pay tribute to Korea's historical past, including traditional folk culture or military history.
#5. National Palace Museum of Korea
It's the largest museum in South Korea, with a collection of over one million artifacts. The National Palace Museum is located in Seoul and is free to enter. If you're not familiar with Korean history or are just looking for something different to do on your trip, this museum is an excellent choice.
The National Palace Museum opened its doors in 2014 and houses artifacts related to the Gyeongbokgung Palace gardens and royal families from Joseon Dynasty (1392-1910). The collection includes paintings, ceramics and calligraphy from China as well as from Japan and Europe which were brought back by early Korean kings who traveled overseas during their reigns. It also contains many items that have been found at archaeological sites throughout South Korea over the last decade.
#6. Jeju Island
Jeju Island is an island off the coast of South Korea and is one of the most popular tourist destinations in the country. There are many things to see and do on Jeju, from visiting its many museums to exploring its ancient lava caves or strolling along its breathtaking beaches. Because it's a small enough place that you can easily explore it with just a few days, it makes for a great weekend getaway.
On top of being home to some amazing scenery, Jeju Island has several other reasons to visit. First off, it's known for having one of the highest numbers of UNESCO World Heritage Sites in all of Asia—such as the haenyo, women who dived to collect seafood without diving apparatus. You'll soon find out from this list, there are plenty more places left waiting for their chance at achieving such an honor!
#7. Suncheon Bay
Suncheon Bay is a bay on the west coast of South Korea. The bay extends from Suncheon Bay National Garden in the north to Baekyang Temple in the south. The area has been named one of South Korea's 10 best tourist destinations by CNN Travel, and is famous for its beautiful scenery. It's also a popular destination for local people to relax and enjoy the scenery.
#8. Han River Park
If you are visiting Seoul, take some time to explore Han River Park. It is a popular destination for tourists and locals alike. With its great outdoor spaces, it's a relaxing place to spend some time with friends or family. It has many attractions that people of all ages can enjoy. The park is free to enter and there are plenty of public transport options available nearby so it's easy to get there even if you don't have your own car or bike.
#9. Gyeongbokgung Palace
Gyeongbokgung Palace is a palace located in northern Seoul, South Korea. The palace is one of the "Five Grand Palaces" built by the kings of the Joseon dynasty. It was also the official residence of Kings and Queens during their stay in Seoul.
#10. Myeongdong Shopping Street
Myeongdong is a popular shopping area for locals and tourists. The street is lined with shops selling fashion, accessories, shoes and food. There are also many restaurants and cafes on the street.
It's also a good place to experience traditional Korean culture as it has a lot of traditional performances that take place throughout the day such as:
Traditional Korean music performance
Traditional dance performance (K-pop dance or "Gangnam Style")
Street art performances by artists who create paintings using spray cans
#11. Gwanghwamun Square
Gwanghwamun Square is a popular tourist destination and a great spot to take photos. It's the main entrance to Gyeongbokgung Palace, so it's constantly busy with locals and tourists alike. You'll also find lots of street food vendors here, which makes it a good place to people watch as well!
With its rich history and impressive architecture, there's no shortage of interesting things to see at Gwanghwamun Square. If you're looking for something historical that will really wow your friends back home (or just entertain yourself), then this is definitely one area you're going to want to check out when traveling through South Korea!
The country has so much history and culture within its borders that it can be overwhelming at times—especially when everyone around you speaks Korean and not many speak English. If you want to navigate South Korea easily, it will be useful to learn some Korean for traveling. Sign up for a short online Korean class with Asian Language School's before your next trip to Korea!