Review of Korean Language
Apps for Kids
---
Perhaps you are interested in getting your kids to learn the Korean language, but they are not yet quite ready for Korean classes. Using Korean language apps for kids to start with is a good option, especially in building children's vocabulary knowledge or learning the Korean alphabet hangul.
Let's take a look at six popular Korean language apps currently available on the Apple store, the pros and cons of each app.
6000 Words – Learn Korean Language for Free
The layout of this free app is interesting. The dashboard is divided into three rows: the first row lists all the topics, the second row lists the subtopics, and third row lists the activities you can play. User can swipe left or right to see more.
Topics include food, shopping, eating out, study, work, transport, sport, leisure, environment, people, appearance, health, home and services. The subtopics for school, for instance, include school, maths, science, and college. It also includes study review of word user gets wrong. There are seven activities in the game section. If user does not read the Korean alphabet hangul, other than the vocabulary lesson, the only other game they can do is listen & choose. Other games require knowledge of hangul, such as write word, listen & write, choose word, find image, and match words.
Pros: Vocabulary lesson is very well presented, with image, native speaker audio, hangul, romanized hangul, English translation and speech recognition to check the accuracy of your pronunciation. Interesting interface with plenty of games will keep you entertained throughout the topics.
Cons: The app does not contain lesson on how to read and write hangul but most of the games require knowledge of hangul.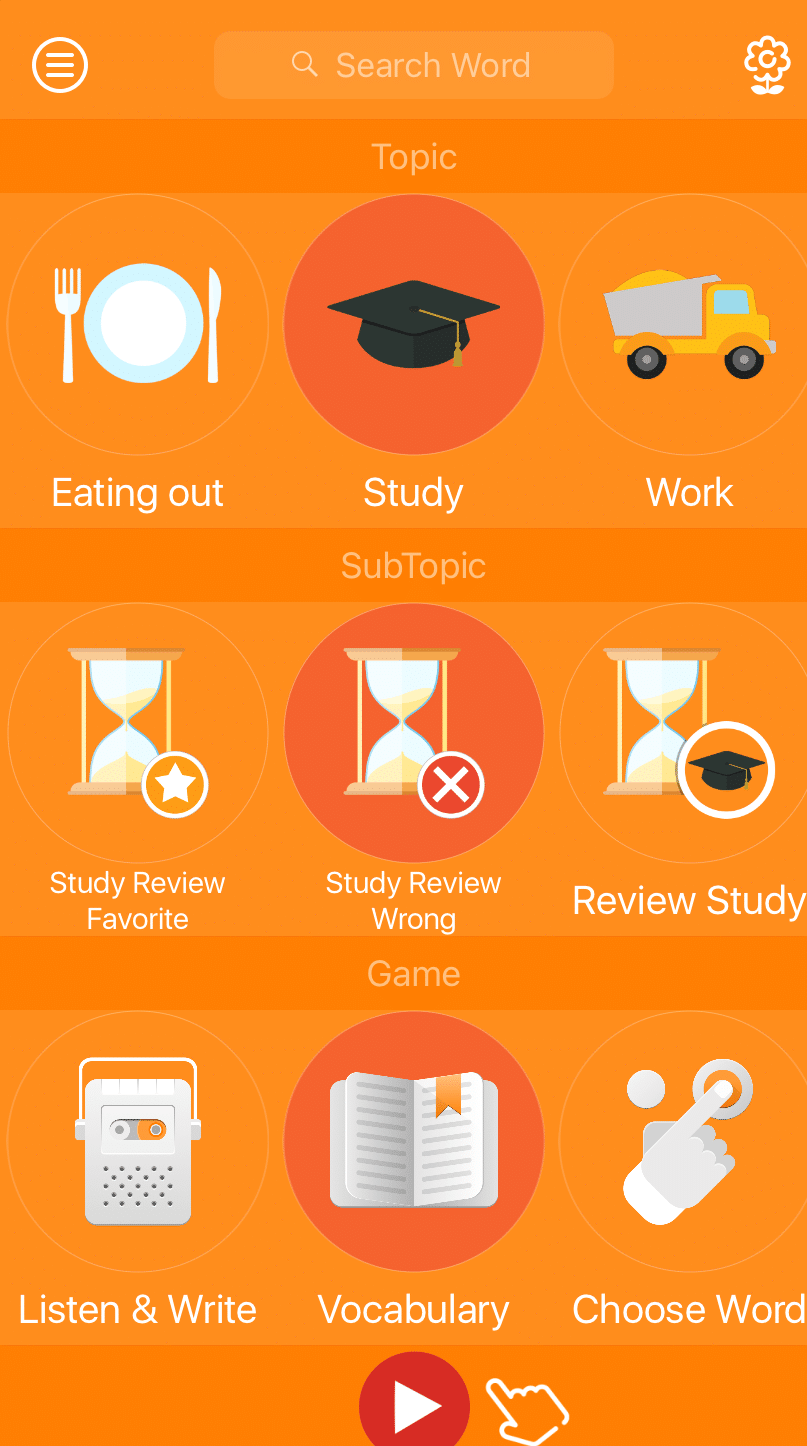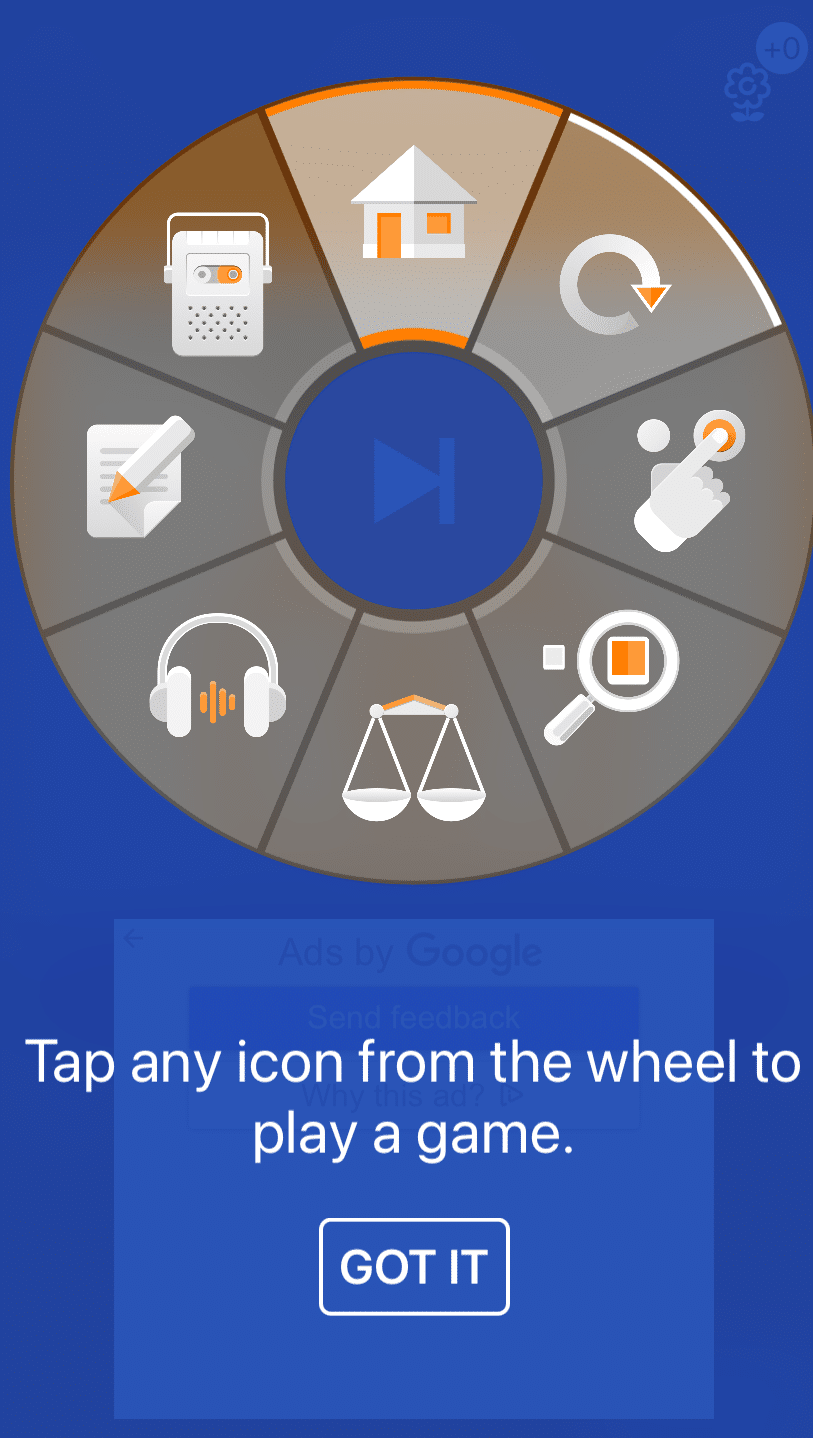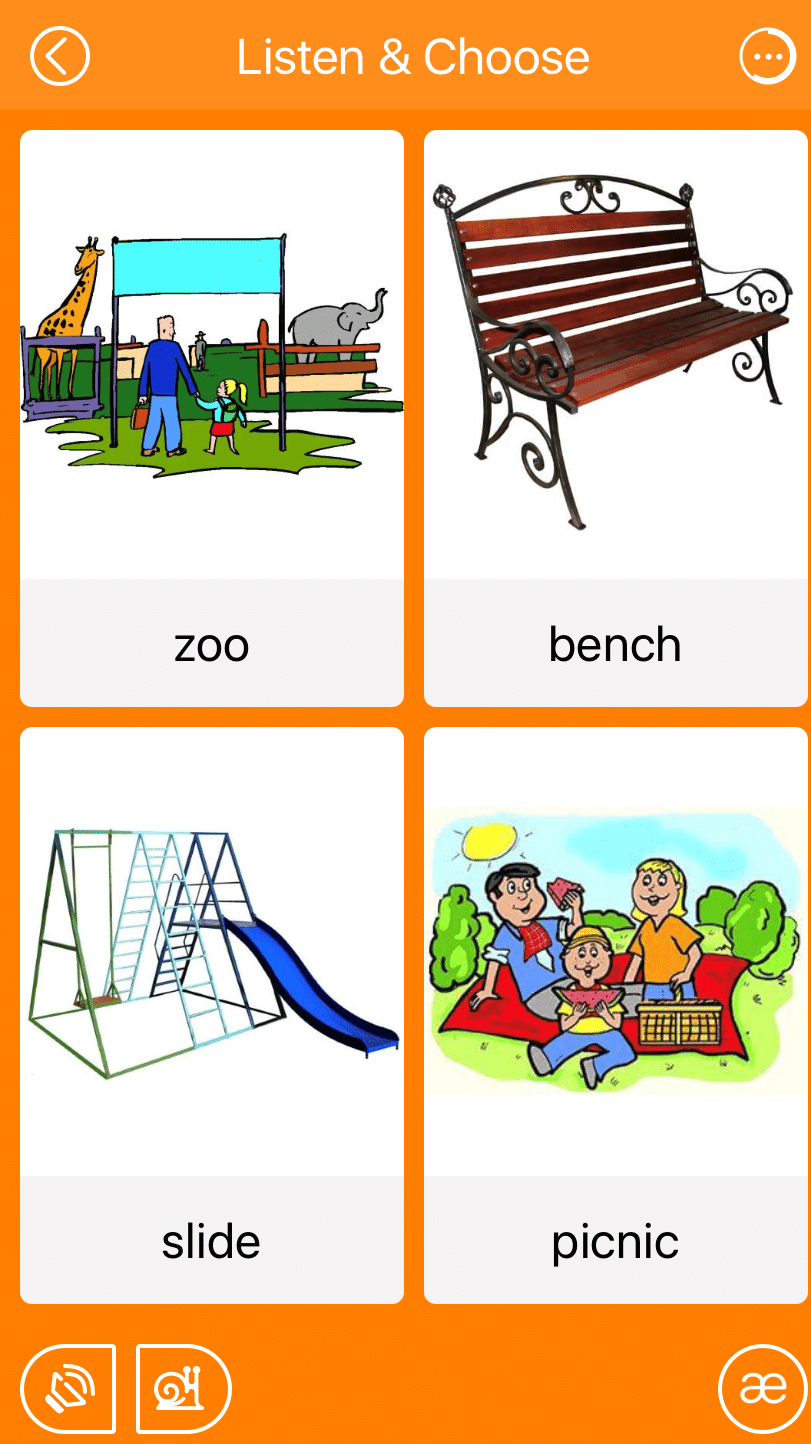 Korean123
This is an app solely for learning the Korean alphabet hangul. The free option is just for the simple vowels and consonants. User can trace the writing to learn the letter. To access the complete alphabet that includes compound vowels and consonants, user has to pay $2.99. The app also includes two simple games: letter matching game, and listening game to find the right letter.
Pros: Good interface that focuses on learning the alphabet.
Cons: None really. To see the letters in actual words will be a nice addition.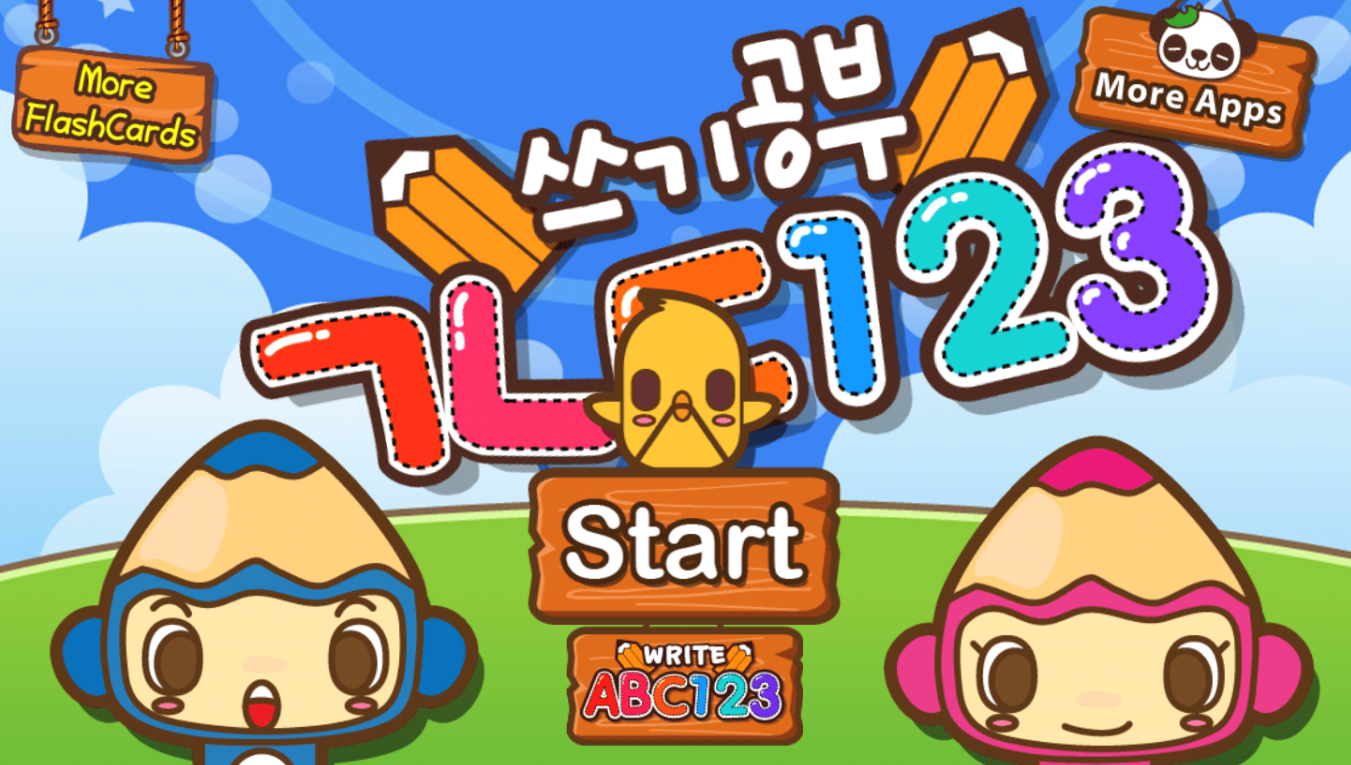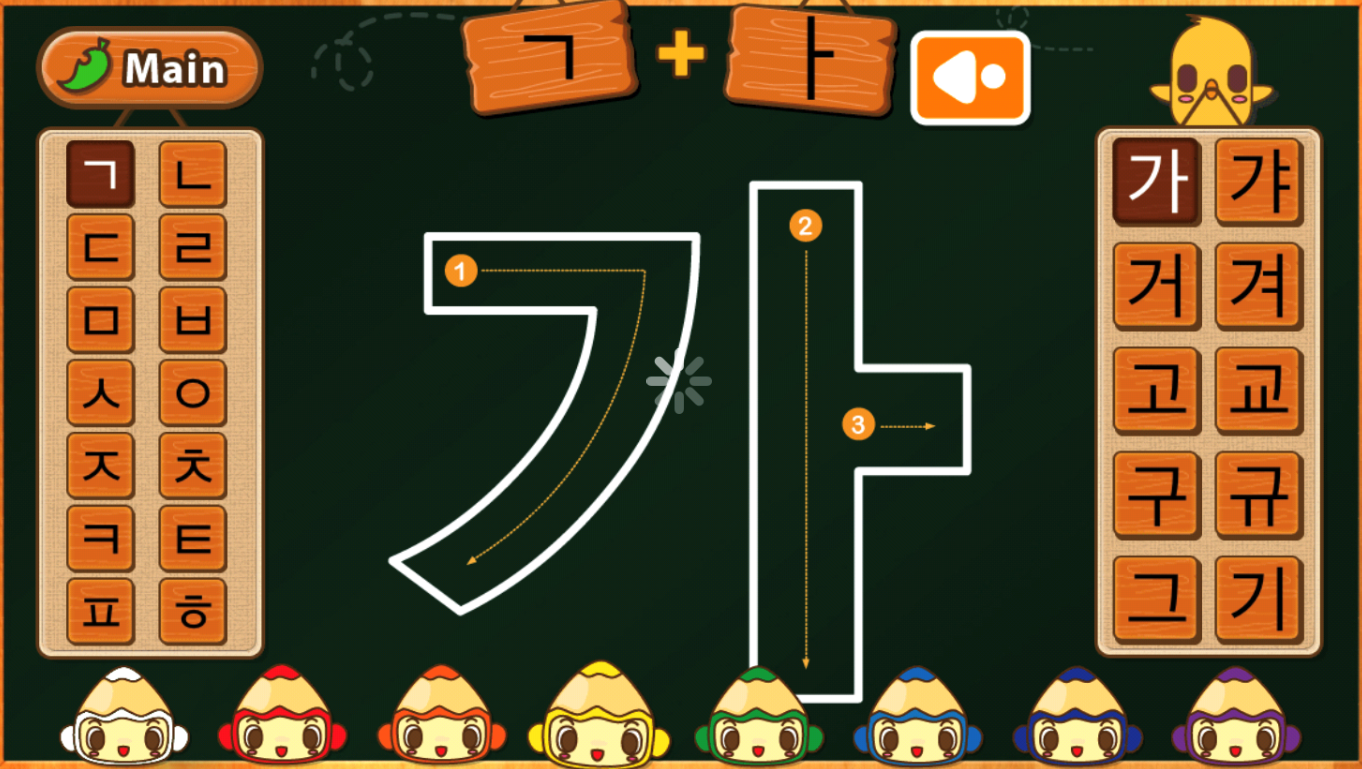 Droplets: Drops for kids
Droplets offers five minutes free lesson every day, with the option to go premium. In the first lesson, you will learn eight new words about food, and play a variety of drag and drop games to reinforce your learning. There are various topics included in the app, such as Travel Talk, Food & Drinks, Fruits & Vegetables, School & Education, Places, Sports & Fitness, The Great Outdoors, Health & Body, City, Transportation, Computer & Tech, Friends & Family, At Home, Household Items, Animals, Nature, Fun & Hobbies, Clothing & Fashion, Beauty & Luxury, At the Office, Routines, Government & Society. For these topics, only the first lesson is free. To access additional topics, the app charges a fee of $16.49 per month, $114.99 yearly, or $219.99 for a lifetime. The Language Essentials topic offers free three lessons on Korean consonants, Korean vowels, and native Korean numbers.
Pros: A wide variety of topics with learning reinforcement game, including hangul tracing game to learn the Korean alphabet.
Cons: The drag and drop game is the same throughout so it may get tiresome playing the same game for over 200 lessons.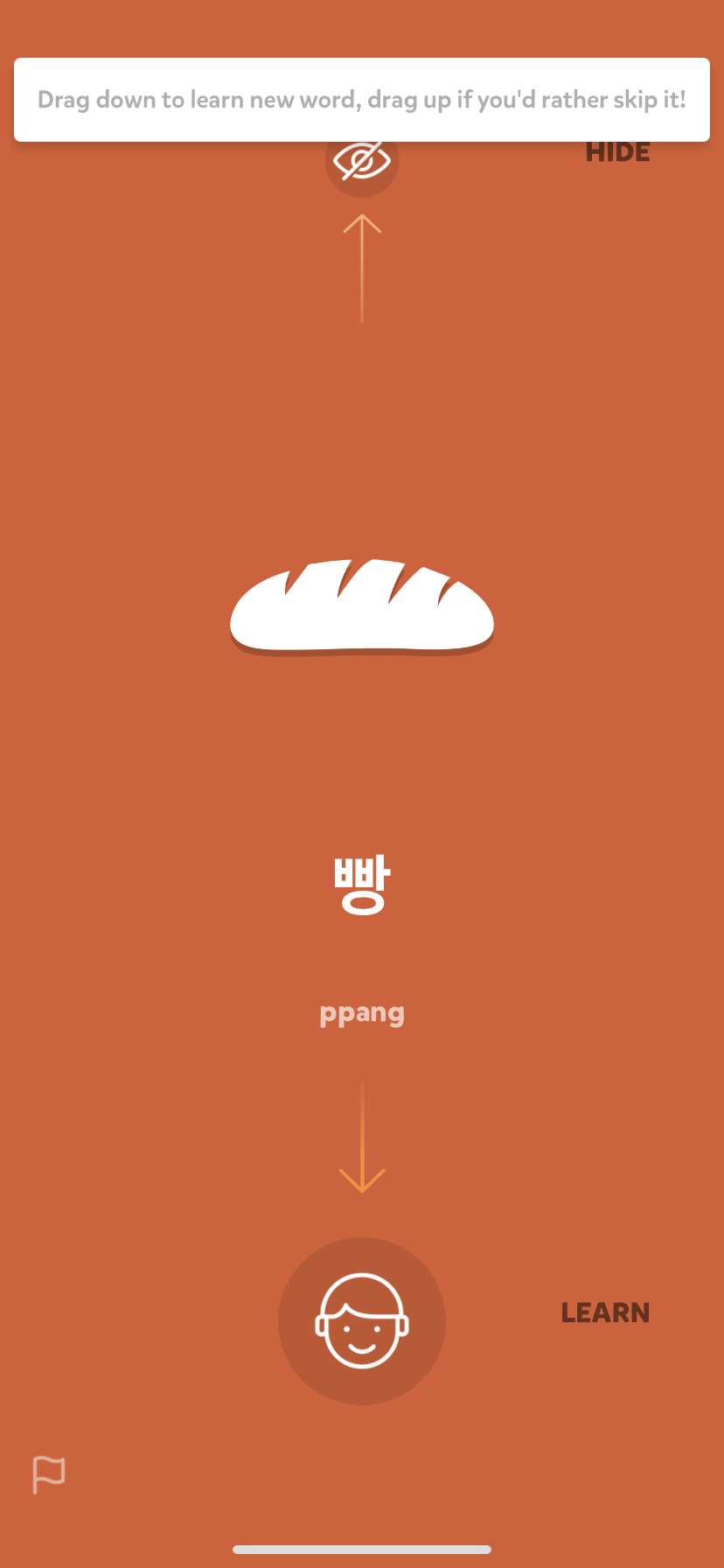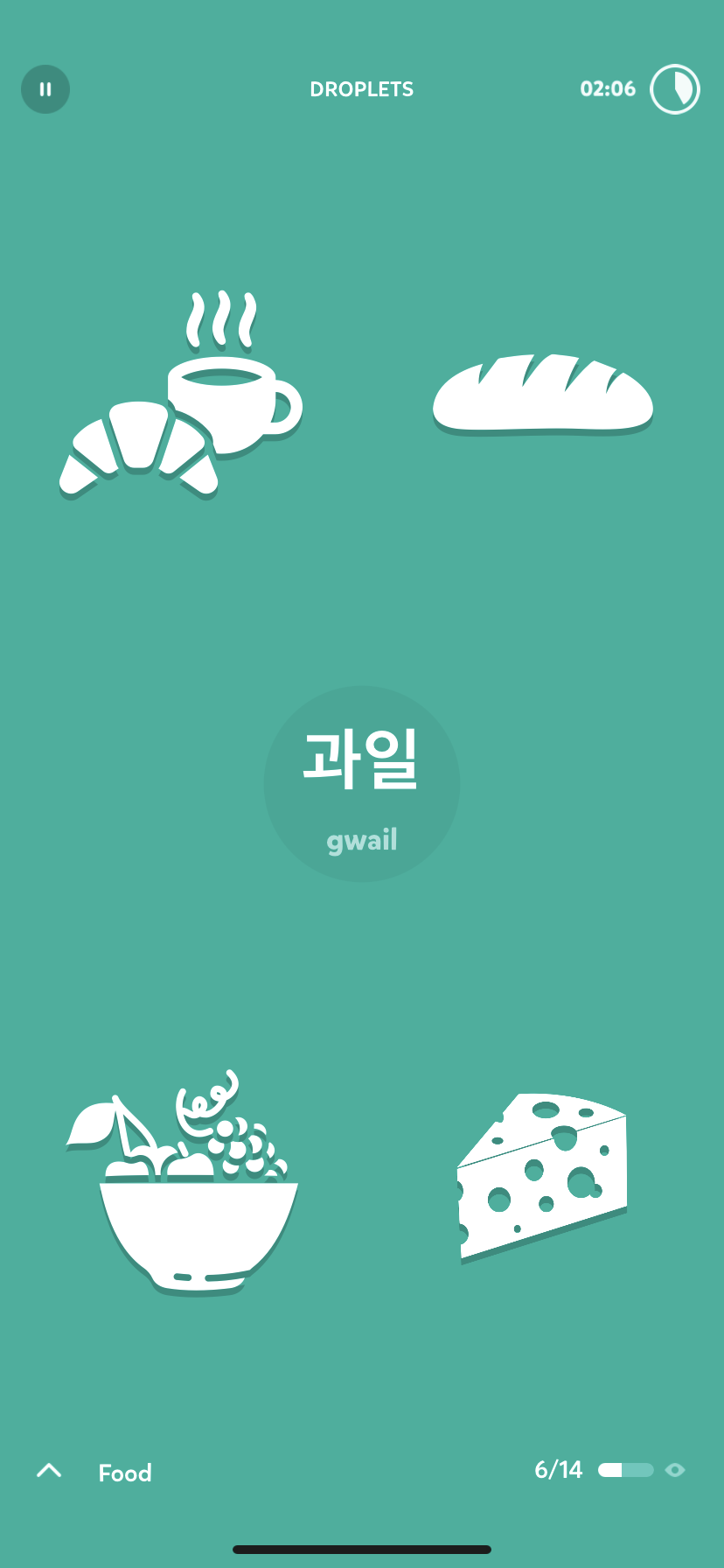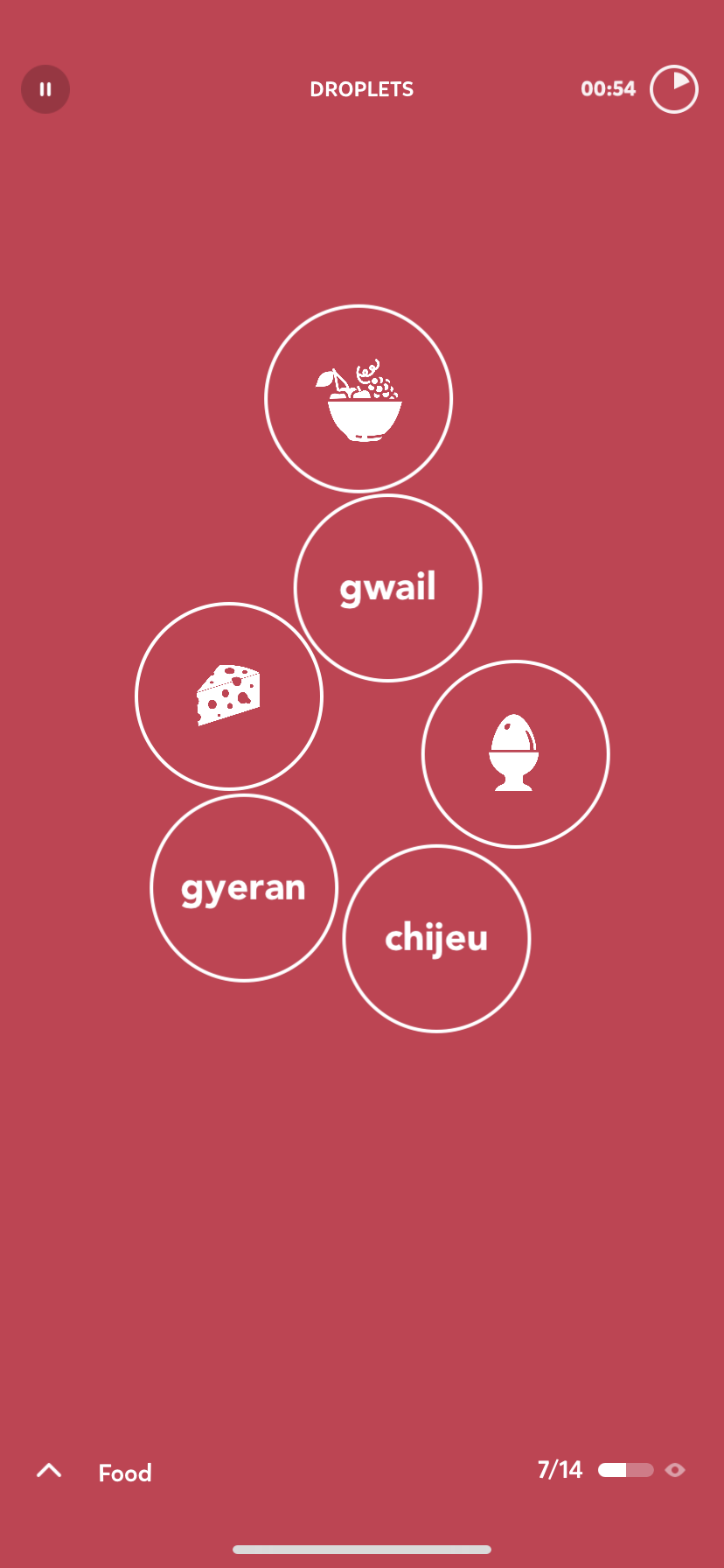 Chick Learn Korean Vocabulary – Kids
Four topics on this app are free: hangul, numbers, colors and animals. The remaining twelve topics (fruits, food, school, home, body, jobs, shapes, vehicles, seasons, activities, tools, countries) can be accessed for a small fee. Each topic introduces kids to a large number of vocabularies, for instance, kids are introduced to 54 animal names in Korean. There also several interesting games kids will enjoy, such as Listen and Find, Look and Find, Find Same Shapes, Memory and Writing.
Pros: Enjoyable games and engaging animation.
Cons: No lesson on how to read and write compound hangul. The topic on hangul merely teaches kids how to read each letter, not how to read or write a block of letters to form a syllable. It's not ad free!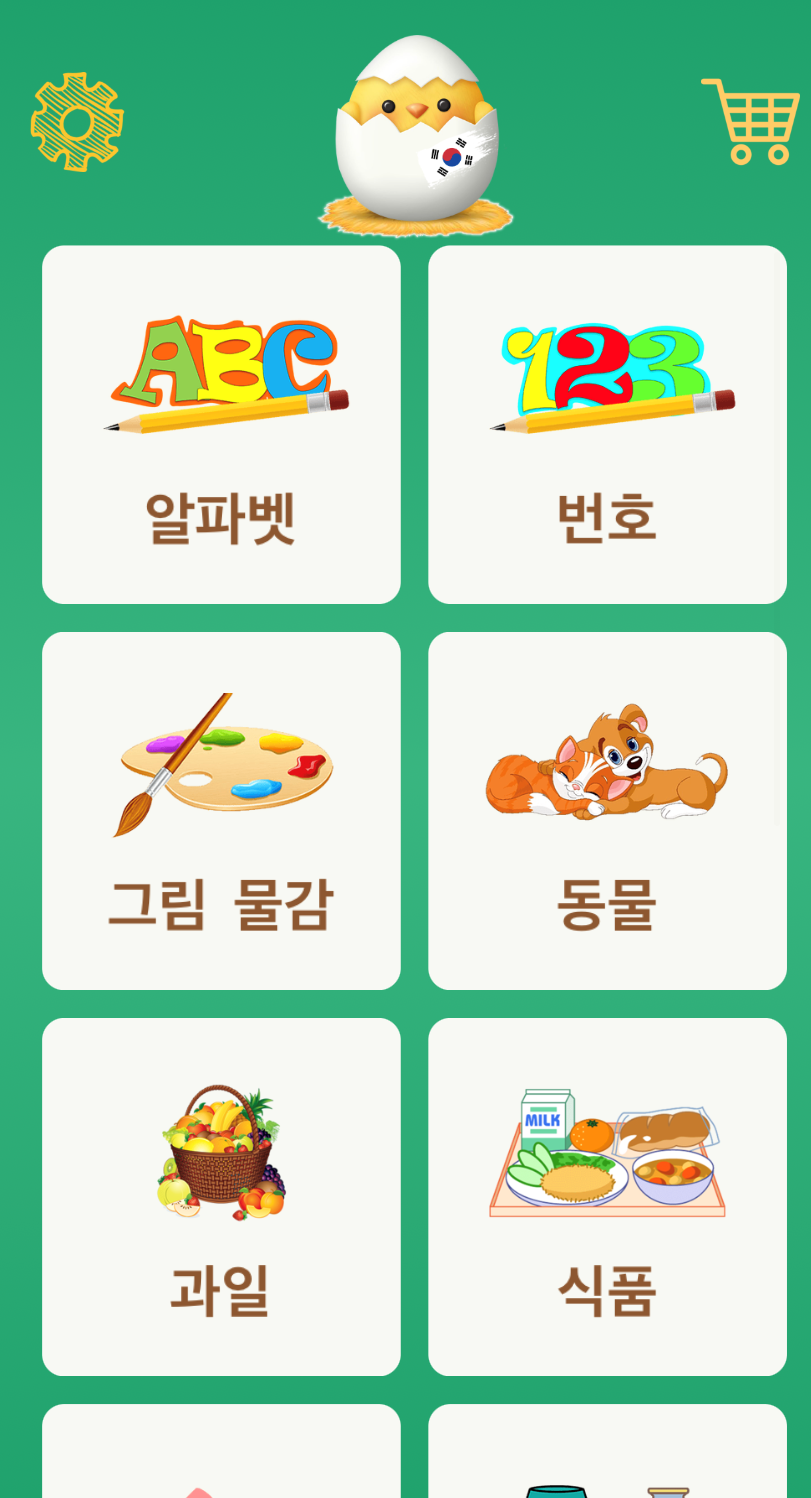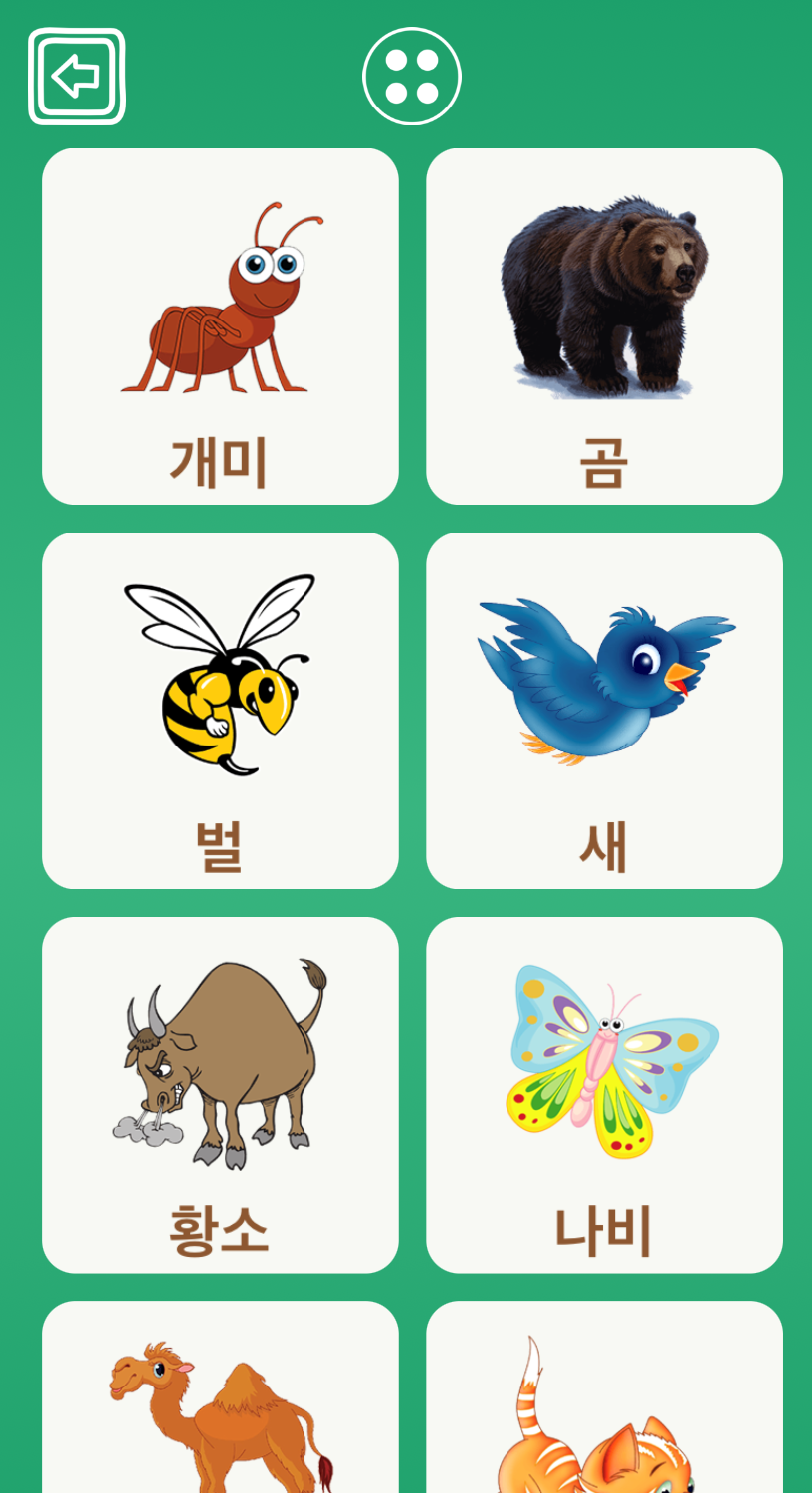 Kids YAY – Learn Korean
Three topics are free: colors, body parts and fruits. The remaining topics (numbers, animals, transportation, food, clothing, phrases, drinks, animal guessing, days, and months) can be purchased for $5.99. The app essentially offers two modes: vocabulary study and picture & word matching game.
Pros: Cute interface, animation and music suitable for kids.
Cons: This app contains only a small collection of topics and user must know how to read hangul to be able to play lesson review.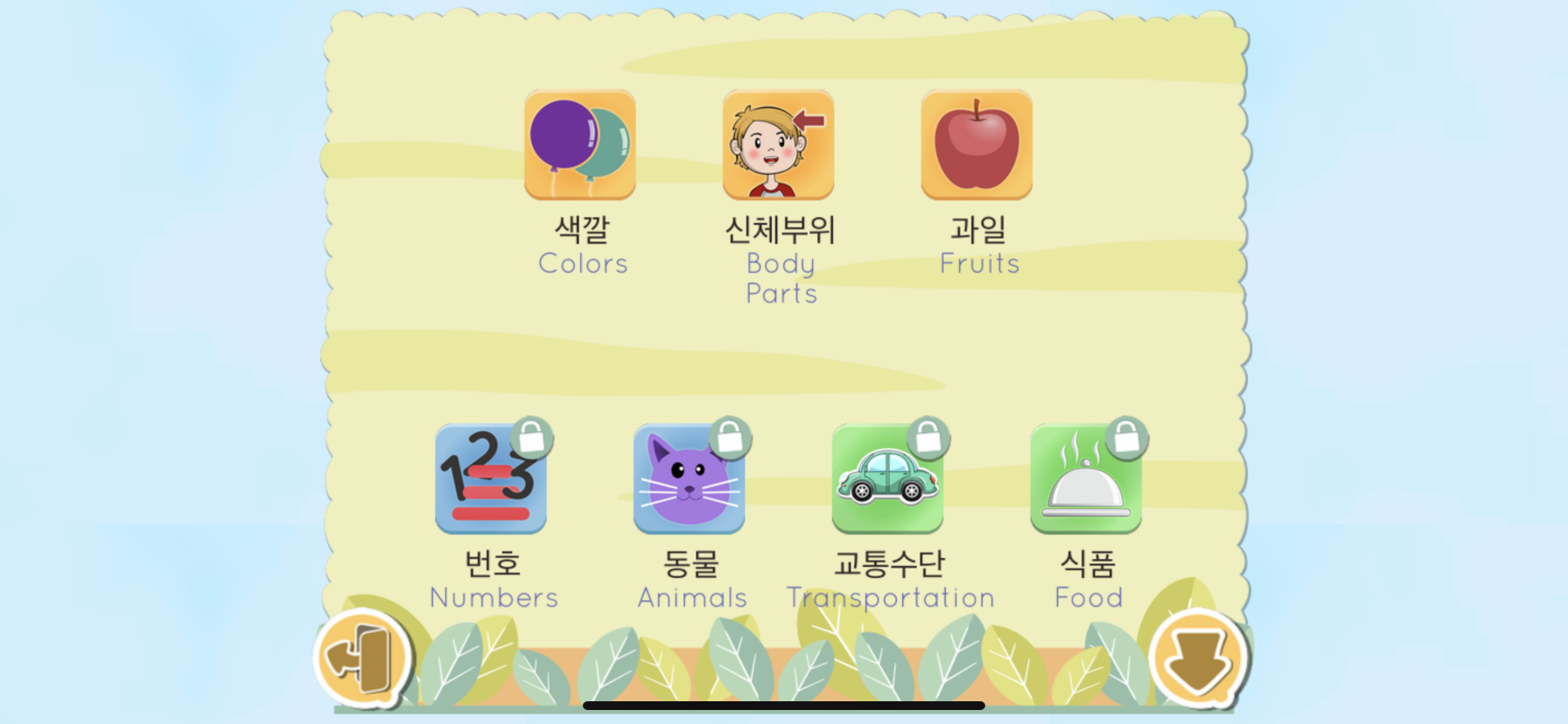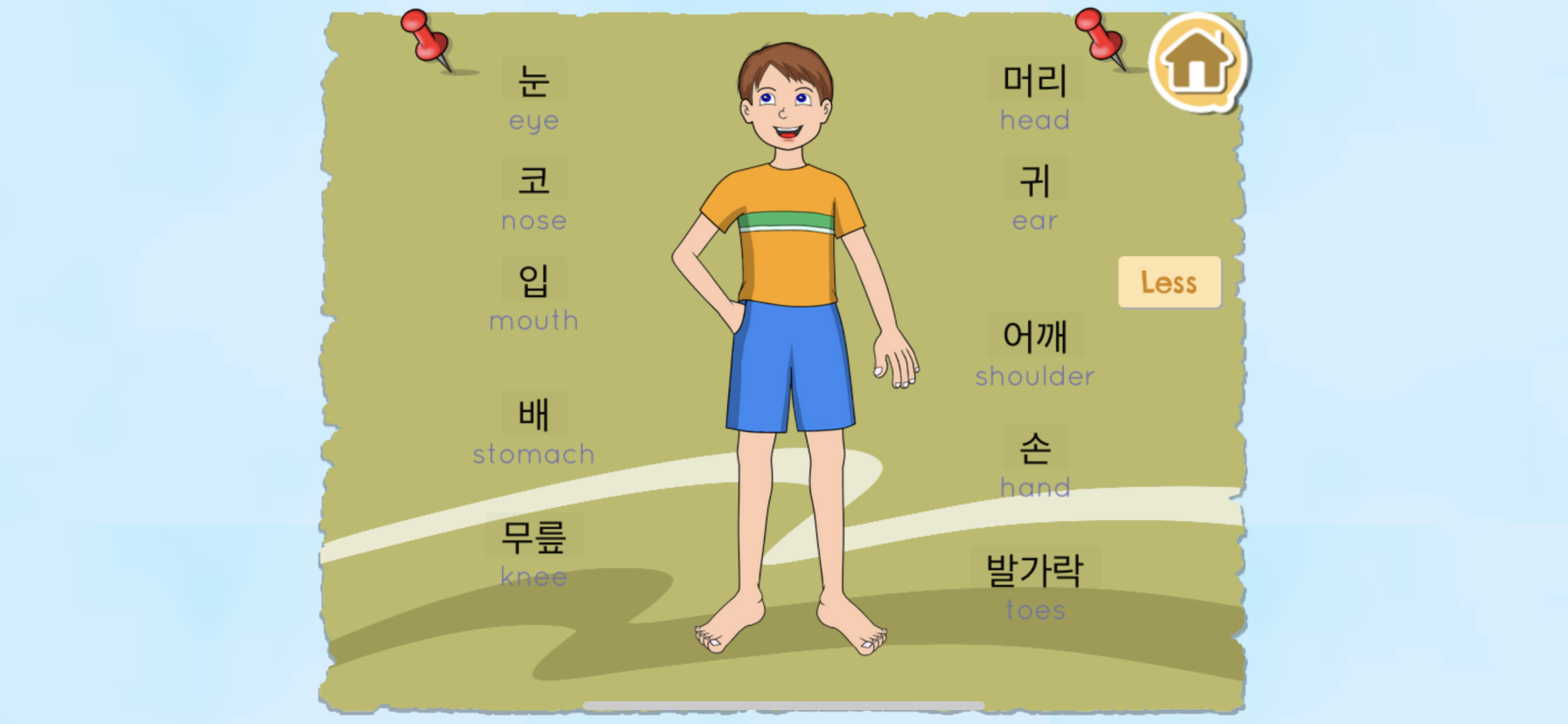 Korean for Kids by Dinolingo
Korean for Kids by Dinolingo offers short video clips that cover topics such as Animals, Numbers, Colors, Food, Fruits, House, Nature, Actions, Family, Body, Clothing, and Vehicles. Each topic lesson introduces kids to words related to that topic, with hangul and romanized hangul written on the screen. A sentence using that word is also included. There is no English translation. Kids have to guess the meaning of the words and sentences based on the picture or video.
Pros: Very easy to use as the app is in a video clip format so kids only need to watch the clip. Kids get to learn vocabularies across a variety of useful topics.
Cons: No coherent use of the mascot Dinosaur in explaining the lesson throughout the app. Some of the clips use real life photos instead of animated illustrations. The app may not be user friendly for parents who do not speak Korean as some of the concepts and stories will need to be explained further by a Korean speaker.