10 Most Delightful Korean
Children's Books
Great children's books spark children's imagination and teach them about the world around them. In addition to having regular Korean classes, reading Korean children's books makes an excellent learning tool as it will help children learn about the Korean language, Korean culture and what Korean children on the other side of the world read. Reading is a wonderful activity for children as it exercises their brain and improves their concentration. Reading also increases children's vocabularies, making it a perfect activity when learning a foreign language. Here is a list of most delightful Korean children's books designed for kindergarten and lower elementary school age children.
English Title: Cloud Bread
Original Korean Title: 구름빵
Author: Baek Hee-na 백희나
Cloud Bread was first published in 2004 and since then has received much international acclaim, from winning the 2005 Illustration of the Year at the Bologna International Children's Book Fair to the author Baek Hee-na winning the Astrid Lindgren Prize, known as the Nobel Prize for Children's Books, in 2020.
The story is about two kittens who found a piece of cloud one rainy morning. They brought the cloud to their mother who baked it into bread. After eating the baked cloud bread, the characters (Mother Cat, Father Cat, and their two children) floated and flew in the air like pieces of clouds.
This delightful story has been made into an animation series.
English Title: The Gift of the Ant Fairy
Original Korean Title: 개미 요정의 선물
Author: Shin Se-mi 신선미
The Gift of the Ant Fairy is a love story shared across three generations: a grandmother, a mother and a child. The story starts with the grandmother and the mother looking at their family photo album; the grandmother regretting not spending time hugging the child's mother enough when she was a kid. The child then summons the ant fairies who present him with an invisible jang-ot, a traditional Korean outerwear worn by women during the Joseon Dynasty. Wearing this magical jang-ot, the grandmother and the mother were transported back to the past to relive their motherhood and childhood.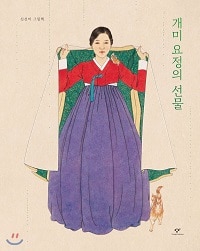 English Title: Watermelon Pool
Original Korean Title: 수박 수영장
Author: Hello Moon 안녕달
Young readers will be delighted by the bold and refreshing illustrations of watermelons in this Korean children's book, much like eating cool watermelons in a hot summer day. Feasting the eyes on the predominantly green-and-red coloring of the book, children will be immersed in a fantasy of swimming in a giant watermelon pool and making a watermelon-man. A cooling book for summer!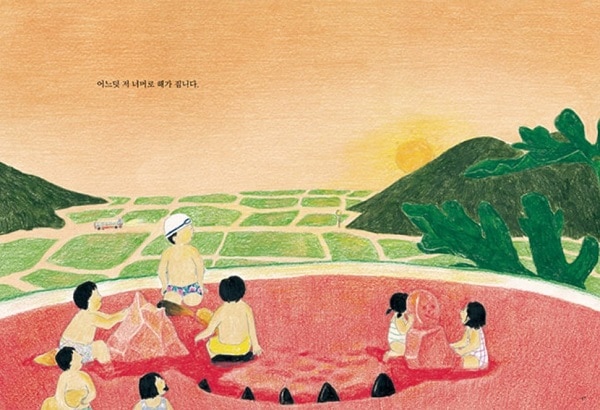 English Title: I Eat Rice Everyday
Original Korean Title: 나는 매일 밥을 먹습니다
Author: Heo Jeong-yun 허정윤
The book tells the story of the many works people do before food reaches the table and introduces children to the kind of food consumed by Korean and where the food comes from, such as cabbage for kimchi, rice and tofu. This book will teach children to appreciate their daily meals.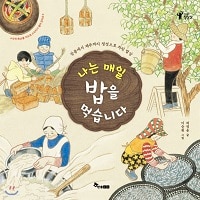 English Title: Mom Is Angry
Original Korean Title: 엄마가 화났다
Author: Choi Suk-hee 최숙희
Vividly illustrated, this book that depicts the daily conflicts between a mother and her child. The mother angry after finding her child drawing on the wall, the child confused by her mother anger. In essence, the author wants to convey the motherly love that every mother has for her child despite the conflicting, angry remarks that the child hears every now and then.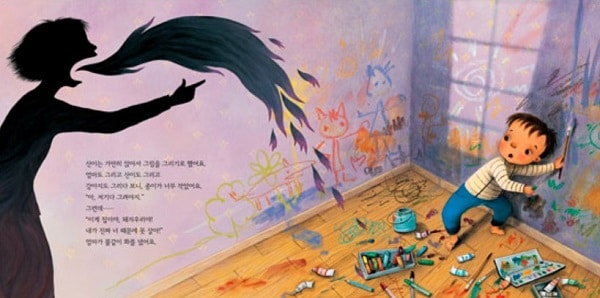 English Title: My Sister
Original Korean Title: 우리 누나
Author: Lee Seo-ji 이서지
The story tells the joy of a younger brother playing with his older sisters. It is rich with historical illustrations of the kind of live children had in the Joseon Dynasty, the clothes boys and girls wore during that time, their hairstyles and the games they played.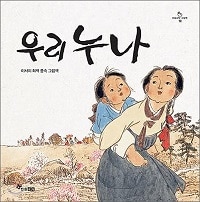 English Title: Hello Banana Moon
Original Korean Title: 안녕바나나달
Author: Lee Yeon-sil 이연실
Songi, home alone as her mother is away visiting their ill grandmother, drew a circle, a triangle, a square, and a banana moon on her room's glass window. Thus, began the magical journey into a child's imaginary world as the banana moon transformed into an umbrella, a ship, a swing, a leaf and other banana-moon creatures who accompanied Songi in many of her yellow-filled, banana-themed adventures. Fans of bananas, you do not want to miss this one!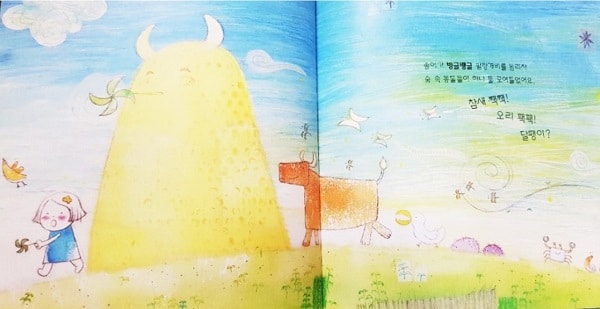 English Title: I Am Dog
Original Korean Title: 나는 개다
Author: Baek Hee-na 백희나
The story of a dog Gong-yi who was sent to live with Dong-dong' family and become Dong-dong's friend, a lonely five-year-old boy. Everyday he dutifully took care of Dong-dong, despite missing his own family, and did his best to protect and care for his new adopted family.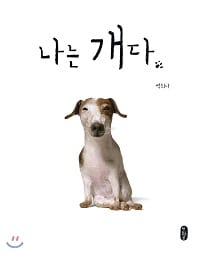 English Title: Sleepy Story
Original Korean Title: 잠이 오는 이야기
Author: Yoo Hee-jin 유희진
Sleep, a character made of glutinous rice cake powder, is children's sleeping friend. This book will persuade children to go to bed so that they can meet their friend Sleep, who carries with it a bag of dreams to share with children, and that they can continue playing and having fun with their Sleeping Friend even when they are sleeping.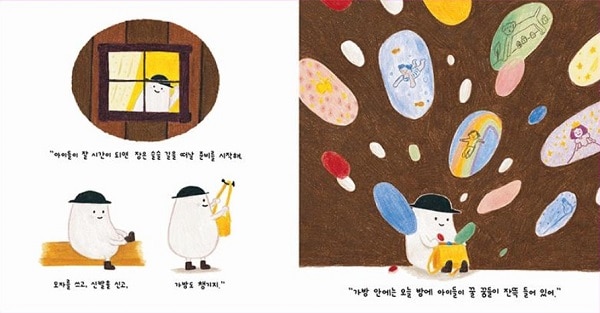 English Title: Dad's Playground
Original Korean Title: 아빠 놀이터
Author: Kim Tae-ho 김태호
This book tells the story of a child's waiting and anticipating to play with his Dad.