Recommended Japanese Children's Books
---
Reading Japanese children's books is a great way for children to learn about the Japanese culture and to complement their Japanese classes. Below is a list of popular Japanese children's books, some of which have been translated into English:
窓ぎわのトットちゃん Madogiwa no Totto-chan
黒柳 徹子 Tetsuko Kuroyanagi (1981)
English translation by Dorothy Britton: Totto-Chan: The Little Girl at the Window (1984)
This is a best-selling book in Japanese history, selling more than 5 million copy when it was first published. This story book has been used as a textbook for third year elementary students in Japan since 1983. There is a bilingual version of this book titled Best of Totto-chan: Totto Chan: The Little Girl at the Window.
Set during the World War II, the story is about a girl named Totto-chan who was admitted to a special school Tomoe Gakuen after being expelled from a public school. The book follows her journey learning and meeting new friends at Tomoe Gakuen.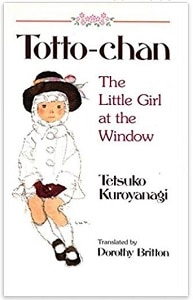 魔女の宅急便 Majo no Takkyuubin 
角野 栄子Eiko Kadano (1985)
English Translation by Lynne E. Riggs: Kiki's Delivery Service (2003)
The book has been adapted into an animated film by Studio Ghibli in 1989 by Hayao Miyazaki (see Top Japanese Animated Films for Children). The author Eiko Kadano has received the Hans Christian Andersen Award 2018.
The story is about a 13-year old witch who must go into the human world to earn a living for a year to complete her training. With her broomstick and a black cat, she flew into a town and worked at a bakery offering delivery services. The story details her friendship with local town children.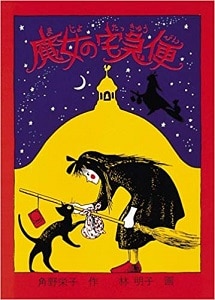 Japanese Children's Favorite Stories 
Florence Sakade (2018)
The author has published some books including:
Peach Boy and Other Japanese Children's Favorite Stories
Little One-Inch and Other Japanese Children's Favorite Stories
Urashima Taro and Other Japanese Children's Favorite Stories
Kintaro's Adventures and Other Japanese Children's Favorite Stories
Each book contains 10 delightful, well-known Japanese folktales written in English complete with colorful illustrations. These collections are perfect to introduce children to various Japanese folktales.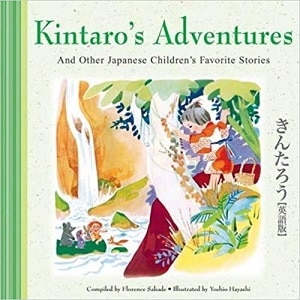 Yuko-chan and the Daruma Dolls 
Sunny Seki (2012)
The story is about a blind orphan girl who creates a daruma doll and hence being able to help the people in her village to make an income by making the dolls. Sunny Seki's books are rich in traditional Japanese culture and imagery, coupled with moral stories to learn from. Other books by the same author include:
The Last Kappa of Old Japan
The Tale of the Lucky Cat
The Little Kokeshi Doll from Fukushima
All the books are bilingual in English and Japanese, making them perfect for learners who want to practice their Japanese reading skills.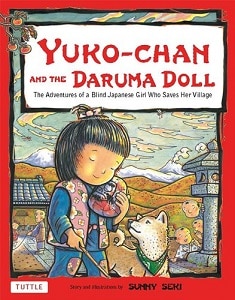 Once Upon A Time in Japan
Japan Broadcasting Corporations (2015)
English Translation by Juliet Carpenter & Roger Pulvers
This book is a collection of eight favorite Japanese folktales illustrated by various Japanese artists, including stories such as The Wife Who Never Eats, The Gratitude of the Crane, and six more tales. A CD is included.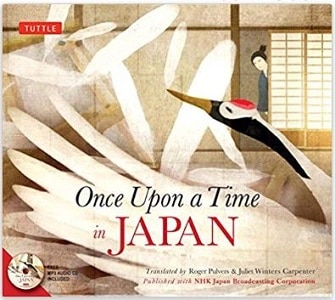 霧のむこうのふしぎな町 Kiri no Mukou no Fushigina Machi
柏葉 幸子 Sachiko Kashiwaba (2004)
English Translation by Christopher Holmes: The Marvellous Village Veiled in Mist
This Japanese edition tells the story of a sixth grader Rina who went on a trip alone to a strange town.
Other works by the same author include:
涙倉の夢 Nami Dakura no Yume
Ami, a junior high school student, went to her grandmother's house in the country during a summer vacation. There she found an old storehouse that took her to another world – a world of decades ago.
りんご畑の特別列車 Ringo Hata no Tokuni Ressha
Yuki, a fifth grader, was on a train home from her piano class. She was dropped off in the middle of a mysterious apple field as she did not have the right ticket to board on the special train.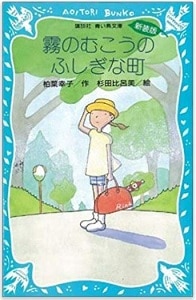 夏の庭 Natsu no Niwa
湯本香樹実 Yumoto Kazumi (1992)
English Translation by Cathy Hirano: The Friends (1996)
The story is about three young boys curious about death making friends with an old man in the neighbourhood. The book has received several awards in Japan and overseas, including the 1997 Boston Globe – Horn Book Award for Fiction.
Other novels by the same author that have been translated into English are The Spring Tone and The Letters. The author's picture book The Bear and the Wildcat was awarded the Kodansha Award for Picture Books.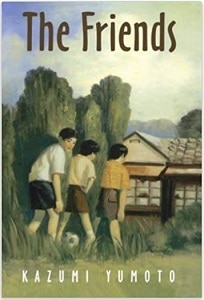 注文の多い料理店 Chuumon no Ooi Ryouri-Ten
宮沢賢治 Kenji Miyazawa (1992)
English Translation by Seika Marie Smith: A Well-Ordered Restaurant
This is a rather scary story for elementary school children about two men who went for hunting in the woods stumbling into a restaurant, except this is not an ordinary restaurant.
Other notable works by the author include:
銀河鉄道の夜 Ginga Tetsu-Dou no Yoru
English translated story: Night on the Galactic Railroad
セロ弾きのゴーシュ Sero Hiki no Gooshuu
English translated story: Gauche the Cellist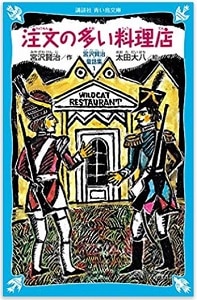 若おかみは小学生!Waka Okami wa Shougakusei! 
令丈 ヒロ子 Hiroko Reijou
The story is about an orphaned 12-year old girl who moved in with her grandmother after her parents' car accident. There she worked at her grandmother's inn and made friend with a ghost (a boy her age) at the inn. Originally a novel series, the books have been adapted into a manga series of the same name and has been made into an animated television series in 2018.
See here for popular Japanese children's animated television series.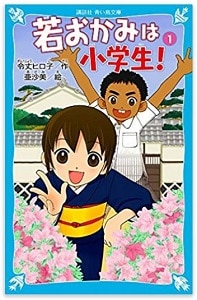 君たちはどう生きるか Kimi-tachi wa Dou Ikiru Ka 
吉野源三郎 Yoshino Genzaburou (1937)
Considered a children's literature for middle school students, the novel tells the live and school experience of a 15-year old boy Junichi Honda who moved in with his uncle after the death of his father.