JAPANESE LANGUAGE CLASSES
Online LIVE Japanese Tutor
Learn Japanese with our Japanese language classes designed especially for busy professionals like you. Our Japanese lessons are taught by professional, native Japanese teachers in virtual classrooms. Join your Japanese classes using Zoom to video chat with your teacher and view the teaching materials on your computer at the same time, all at the comfort of your home or office.
Whatever your primary objective is for learning Japanese (for work, JLPT exam study preparation, business, travel, or living in Japan), our dedicated teachers will personalise your Japanese lessons to suit your interests and communication needs. Our focus in on developing adult learners' speaking and listening skills in Japanese. For beginner learners, you will be using romaji (romanised Japanese writing system) so that you can start communicating in Japanese without having to learn the Japanese writing. For those who do want to learn not only speaking and listening but also reading and writing, your teachers will support you accordingly.
Our Japanese language course will train you both in the Japanese language and culture. Your degree qualified Japanese teachers will guide you in the use of the Japanese language through various professional and social contexts, complete with cultural guidance.
Furthermore, you are able to learn Japanese at a time that suits your schedule best with our flexible scheduling system. You can also cancel and reschedule your Japanese lessons conveniently. Our Japanese teachers are available seven days week, from morning to late night.
Course Fees:
Option A: 8 x 60-minute classes $285
Option B: 16 x 30-minute classes $380
We also teach group Japanese classes for people who want to learn with other learners and can commit to regular class schedules. Group Japanese classes from Beginner to Advanced levels are offered on weekday evenings throughout the year. Alternatively, you can  arrange your own group (min. 2 people) while enjoying flexible scheduling and discounted course fees. Contact us for more information.
https://www.asianlanguageschool.com/wp-content/uploads/2019/08/female-ceo-talking-with-colleagues-office_1163-4664.jpg
417
626
ALS
https://asianlanguageschool.com/wp-content/uploads/2015/12/logo_hires1.png
ALS
2019-08-31 00:10:52
2019-09-28 21:06:40
Popular Four-Character Japanese Expressions in Daily Conversations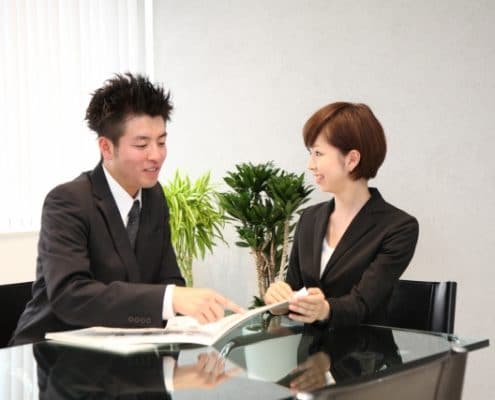 https://www.asianlanguageschool.com/wp-content/uploads/2018/08/Office-Meeting.jpg
427
640
ALS
https://asianlanguageschool.com/wp-content/uploads/2015/12/logo_hires1.png
ALS
2018-08-31 23:04:13
2019-09-08 20:38:42
Japanese Honorific Speech Keigo for Beginners